Discussion Starter
·
#1
·
Hi from Newcastle Australia,
this is my first post anywhere, ever, I hope you find it useful.
Having been a mechanic with my own workshop, in a past life,
and a car enthusiast for over 40 years specializing in Alfa, Honda and Lambo
and having completed many total resurrections, it was obvious to choose a 4C
as my first new car. However, rather than joining the waiting list, I bought a perfect
2500Km, white, coupe which met my specs exactly.....fantastic!
Believing in the need for early first oil changes I decided to change the oil and filter immediately
and picked up oil and a filter from Leichhardt when in Sydney.
Aus$76 told me that this filter must be something 'special'. It was a Mann W6014 and
looked very average but the specs gave a bypass pressure of 2.5 bar (35psi).
Almost all other filters have a 1bar bypass pressure. This raised lots of questions.
On further inspection I was alarmed to see that it had a plastic core with
a large open grid structure rather than a tubular steel core, with lots more smaller holes,
as in most filters. I predicted that the filter element could not be supported adequately
for the high bypass pressure.
Upon opening the old filter I found that the element had been compressed into
tight bunches aligned to, and with the same number as, the plastic support verticals.
view of element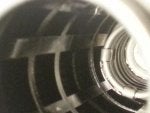 plastic support
At 2500Kms these bunches are tight enough when disassembled but when under
heat and pressure they will be much tighter and the oil flow will be very restricted
so the pressure across the filter will increase and the support will distort more
further restricting flow until the bypass opens. (All getting worse as the filter gets older).
At this point the engine is seeing oil at a pressure >35psi less than the feed pressure
and that oil is washing over the small, dirty, open sections of filter to get to the bypass
valve at the end.
Yes! the engine is being fed especially dirty oil at approx. 1/2 the normal pressure.
In my opinion, other than the 'special' price, the W6014 is a very ordinary oil filter
but with a high bypass pressure and design faults.
( We can discuss the bypass operation and why Alfa might have set it high later, I am not saying
that this is a fault on its own....)
I sent the info and filter to Mann Australia 1 month ago. It has been returned. Apparently there is
no great problem because there has not been a catastrophic failure yet, so the
complaint must go thru Alfa.
Meanwhile there is the great possibility that our cars will be suffering accelerated engine wear.
Am I being alarmist? Possibly....but I can't find any other filters collapsing and 4Cs deserve better!
It would be good if somebody with some involvement with Fiat Alfa could take this up with them.