Hi All,
As many other owners I was annoyed by the weak signal of FM radio signal in the 4C
After investigating this issue, the problem is clear, the FM amplifier mounted in the front of the 4C is not supplied with 12Volt by Alfa Romeo.
It seems they have completely forgotten this.
In the front (removing the bonnet) you will find the Fakra cable connected to the amplifier (black block), which is connected to ground (bolted onto the chassis), connected to the adhesive antenna inside the front bumper
When removing the footrest from the passenger floor, the same Fakra connector is found, connected to the antenna cable which leads to the back of the radio
The following conversion steps I made;
Disconnect the Fakra connector and the Fakra Radion antenna under the footrest
An RF Bias Tee board is to be connected in between these two Fakra connectors
The Bias Tee board has SMA screw connectors, so 2 extra cables are needed
Bias Tee direction DC+RF towards the amplifier in front of the 4C
Fakra A Male to SMA male, RG174 coax cable 15cm
Fakra A Female to SMA male, RG174 coax cable 15cm
The SMA male connectors are connected tothe Bias Tee board
The Bias Tee board is supplied with switched +12V en Ground, these can be found close by
The result of this Bias Tee is that the amplifier in front of the 4C gets +12V
so now it is actually amplifying the FM reception
When i started my Joying radio FM app, I was greatly surprised as many FM channels were now strong
Next test was when I disconnected the FM antenna glued behind the bumper, it made no difference in the FM channels found on my radio...
So I decided to create a new antenna, a small brass rod with an exact length of 70cm (quarter lambda). I mounted this in the middle on top of the plastic housing of the radiator.
The top of the antenna bent so it would not touch the bonnet
Fixed in place with a few tiewraps
The antenna bottom is soldered to a wire with an AMP connector, connected to the original amplifier (black wire) of the 4C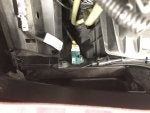 This new simple antenna doubled the amount of FM stations easily, so decided to keep this antenna instead of the original 4C bumper version.
Costs involved :
Fakra A male to SMA male 15cm RG174; $5
Fakra A male to SMA male 15cm RG174; $5
Bias Tee; $5
As maybe some of you noticed a second Fakra coax connector (Fakra F brown color) is also present under the bonnet and under the passenger footrest (Fakra G grey color).
I start to belive this was intended for DAB+ radio in the 4C
So next I will do is make a connection of this antenna to the glued bumper antenna, connect this to my Joying DAB+ USB dongle (will post this when I have the hardware and results)